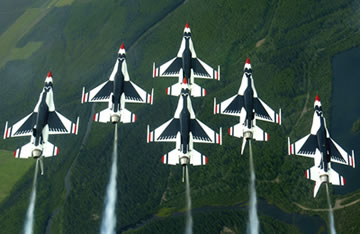 Gateway to Freedom Air Show
Helena, Montana, June 27-28, 2009
The Gateway to Freedom Air Show will feature premier demonstration teams performing in the skies over Helena. The United States Air Force Demonstration Squadron, the "Thunderbirds," and the United States Army Parachute Team, the "Golden Knights," will be headline participants in the Helena Area Montana Military Open House and Air Show to be held June 27-28, 2009.
The air show is part of a military open house, hosted by the Montana National Guard and Reserve Units assigned to Fort Harrison, making this event free to the public. The Helena Military Affairs Committee of the Helena Area Chamber of Commerce is also sponsoring the air show.
This event will showcase numerous aircraft and tactical vehicles used by both the Army and Air National Guard units in Montana and the United States military. Numerous live demonstrations will be incorporated into the program which will make this a very special event.
The Thunderbirds, "America's Ambassadors in Blue," perform gravity-defying feats in iconic red, white, and blue F-16s, reaching speeds over 500 mph. The Thunderbirds team consists of twelve officers and 120 enlisted personnel.
In 2009, the Golden Knights will be commemorating 50 years since the formation of the Strategic Army Corps Sport Parachute Team, which later evolved into the U.S. Army Parachute Team, and later the Golden Knights. The Golden Knights travel as two demonstration teams and also have competition and tandem teams.